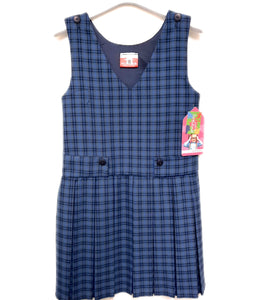 Girl's school  uniform pinafore in blue check fabric for Bohermeen National School. V neckline, shoulder buttons and pleated skirt. Made in poly Viscose fabric by Hunter.
This is a special order item. Early ordering is essential.
Sizes available to order : 4/5 years, 5/6 years, 6/7 years, 7/8 years and 9/10 years.
Please email kidstuffchildrensclothing@gmail.com.
August Update: now available
Wear this with a white polo shirt underneath and with a St Ultan's jumper or a St Ultan's Cardigan